www.tribeofman.com - klaus schoenwiese photography presents:

---

Aloha! Hawaii.




Impressions collected on a visit to Oahu




- Click Images to ENLARGE -




Facing backwards I see the past
Our nation gained, our nation lost
Our sovereignty gone, our lands gone






All traded for the promise of progress
What would they say - What can we say?







Facing the future I see hope
Hope that we will survive
Hope that we will prosper








Hope that once again we will reap the blessings
of this magical land - For without hope I can not live








Remember the past but do not dwell there
Face the future - where all our hope stands


Song Lyrics by
Israel Kamakawiwo'ole
Oahu 1959-1997





Hawaii: Surfing, the Hula, Pearl Harbor, Waikiki, volcanoes, the okulele, Elvis, cinnamon ninnies covered in leys, loud shirts, white sands - the stuff legends are made of...

In a shuffle between colonial powers, American sugar cane and tropical fruit business owners form a private militia and imprison the reigning queen of this independent island nation. Their simple objective: Consolidate control over all Hawaiian islands, take from the willing, disown the unwilling and bring Hawaii under the American flag. The year is 1893. The rest is history.

Waikiki 2004: Hotel highrises as far as the eye can see; its white sandy beach a legend indeed; most sand was in fact shipped from nearby islands to facilitate Waikiki's transformation. Greater Honolulu is quintessential American suburbia with an asian pacific off-shore appeal.

Radiating inlands from Pearl Harbour, highway infrastructure and military installations compete with nature, as do the mono-cultures of todays tropical fruit trade empires.

In disregard of such odds, Oahu abounds in natural and spiritual beauty. Its ancient voices have not fallen silent. They freely speak to those who listen - They give tribute to the vitality and endurance of Hawaiian culture.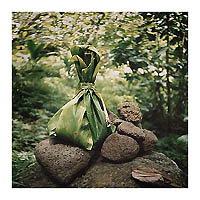 Blessings to my hosts,
'Auntie' Maraea Taylor
and Doug Siu
---
All images © Copyright 2005 by Klaus Schoenwiese - Usage by permission only


Please visit: www.tribeofman.com